Our toaster oven shorted out a few weeks ago. Since we got a microwave, I've used the oven feature less and less frequently. So today, we decided to go with a more traditional toaster, which looks stylish and takes up less valuable counter real estate: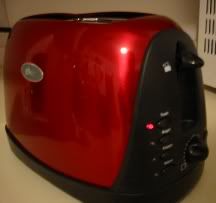 The box promised that Advanced Toast Technology would ensure perfect toasting every time. And indeed, the extra-wide slots have little metal grippers that narrow to the width of the bread item. There are special buttons for toast, bagels, and frozen items. I feel like a crusty old-timer marvelling at some new-fangled invention.
But the booklet, the text of this toaster, is really wonderful:
Using the Seven Toast Shade Dial, adjust


your darkness preference.


When toasting one slice of bread


place in the center of either bread slot


Dual, Auto-Adjusting, Stainless Steel Bread Guides


automatically adjust.


Bread Carriage Lever


Toast Lift the convenient and safe way


Your toaster has been designed for optimum toast balance.